The language of wild beauty
Prior to the Picturesque movement, people sought out symmetry, elegant architecture and the trimmed neatness of a formal garden. When they reached the Lake District, it was culture shock; they couldn't articulate the sublime majesty of the landscape. A new language was needed to interpret this wild aesthetic.
Photographs: Ryan Lomas
Words: Joly Braime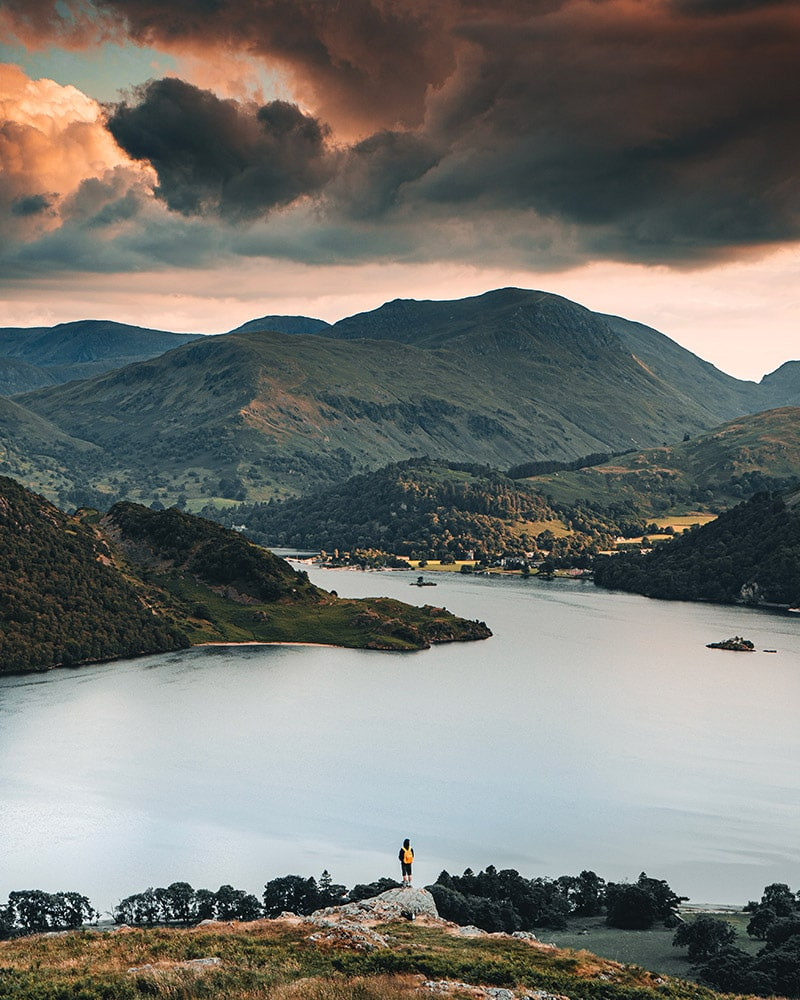 The rise of the Lakes
When Daniel Defoe visited the Lake District in the 1720s, he noted gloomily that "all the pleasant part of England was at an end". He described the "horror" of the place with great relish, calling it "a country eminent only for being the wildest, most barren and frightful of any that I have passed over in England, or even in Wales."
Despite being even more awful than Wales, however, the Lake District was about to see an explosion in popularity. Today, nearly 20 million people a year visit the Lakes – in 2017 it was declared a UNESCO World Heritage Site – and it all started with the pioneer tourists of the Picturesque movement.
In Defoe's day, people liked symmetry and neatness, elegant architecture and formal gardens. Picturesque beauty, on the other hand, was all about the wild and violent lines of nature. An important aspect of a 'picturesque' landscape was that it needed an element of the 'sublime', which is to say that it had to have a hint of fear and awe about it, elevating it beyond something that was simply pretty.
Artists had been exploring the concept of the picturesque as far back as the 1600s, but it was an English vicar called William Gilpin who famously defined it in 1768 as "a term expressive of that peculiar kind of beauty, which is agreeable in a picture".
Gilpin wrote a series of books about the picturesque, including the pithily titled Observations, relative chiefly to picturesque beauty, made in the year 1772, on several parts of England; particularly the mountains, and lakes of Cumberland, and Westmoreland. Part travel guide, part artist's manual, it offered a fresh way to understand the rugged Lakeland landscapes, complete with its own specialised vocabulary.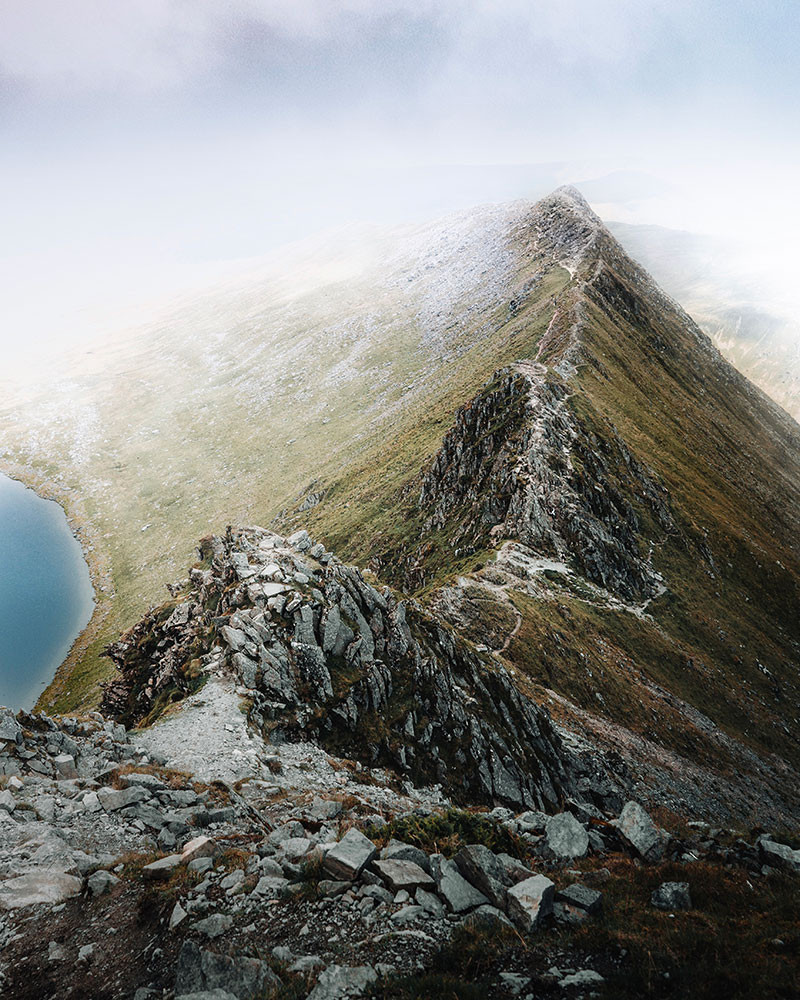 A new language
Because his readers were learning to connect with natural landscapes by appraising them like paintings (and often by actually sketching them), Gilpin's guides were couched in the technical language of art. He writes of composition, middle tints, near-distance and offscapes, and his books are peppered with italicised terms, always meticulously defined. "In a distance, the ruling character is tenderness, which on a fore-ground gives way to what the painter calls force and richness. Force arises from a violent opposition of colour, light, and shade: richness consists in a variety of parts, and glowing tints."
Gilpin was almost comically finicky about correct composition in a landscape. Insufficiently dilapidated ruins were "disgusting"; a jarring line or colour was a "deformity"; a mountain that was shaped too much like something man-made was deemed "grotesque". The effect of Gilpin's waspish language is considerably heightened by the fact that the letters 's' and 'f' look very alike in books printed in the 1700s, lending the text a Pythonesque shrillness that rather suits it. It's difficult to read his condemnation of (ill-proportioned) Scandinavian mountains as "maffef of hideouf rudeneff" without cracking a smile.
Gilpin was clear that such deficiencies in nature were "not a subject for the pencil; [and] should be relinquished". Or in other words, edited out. Trees should be planted or removed at the artist's discretion, ill-formed hillocks should be broken open, and intrusive cottages "thrown down". Those with enough money sometimes even bought the landscapes themselves so they could make such alterations in real life.
As a concept, the picturesque is gloriously paradoxical. You aim to allow nature its full, unfettered glory by tampering with it to make it fit a set of aesthetic rules. All the same, people were mad for it.
As high society packed their paint boxes and directed their carriages northwards, they needed a more useful travel guide than Gilpin's Observations, which were decidedly light on practical information.
Enter another priest, Thomas West, who in 1776 published A Guide to the Lakes. West was a dab hand at packaging up the picturesque for the mass market. Not only did his guide contain helpful travel advice, but he also devised a network of 'viewing stations', where visiting aesthetes could enjoy curated vistas.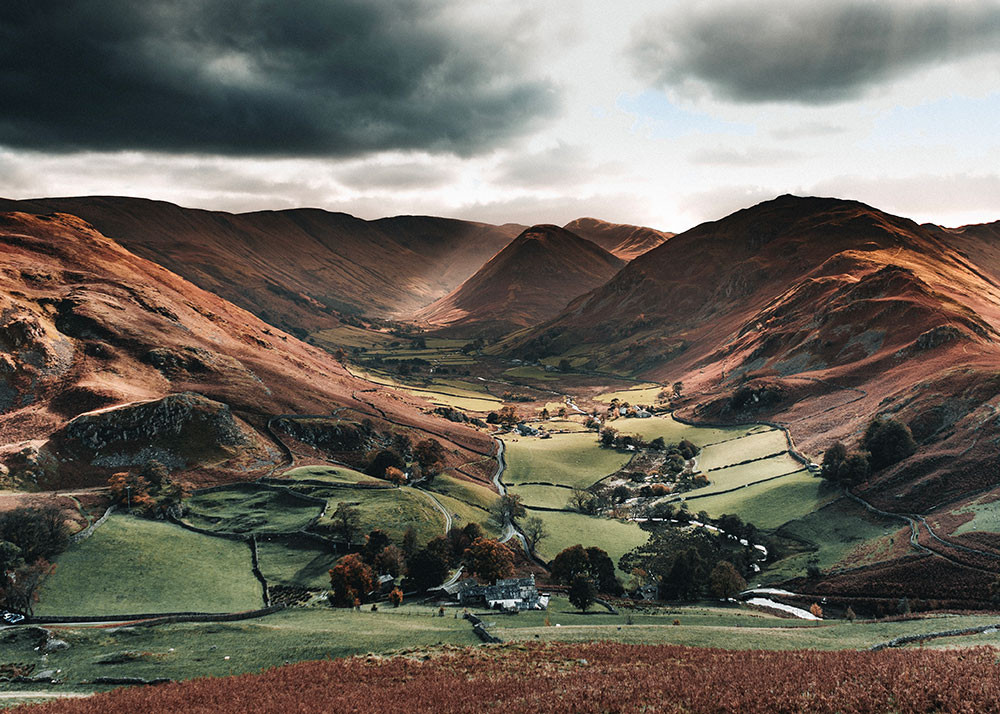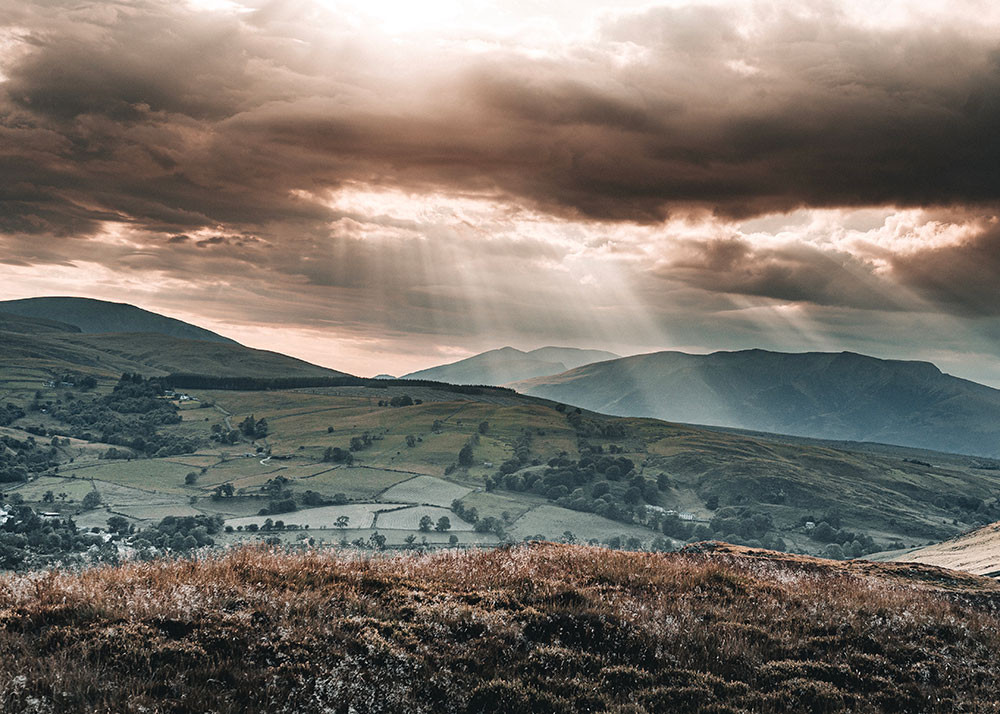 Viewing stations
These viewing stations weren't necessarily high points. Ullswater, for example, he felt should be viewed from closer to the shore, since it "loses much of its dignity as a lake" if seen from any hill except Dunmallard at the northern end. Head up to one of his viewing stations just above Aira Force and you can sort of see what he means. Because Ullswater is long and sinuous, you get a better sense of its scale from a little lower down. Lakefront viewing stations had the added bonus of rich acoustics caused by the shape of the valley, and West noted that tourists could "find much amusement by discharging guns, or small cannon".
True connoisseurs of the picturesque would turn their backs to West's views and instead examine them in a 'Claude glass', which was a convex mirror about four inches across, named after the Baroque landscape painter Claude Lorraine (1600-1682). "Where the objects are great and near," wrote West, "it removes them to a due distance, and shews them in the soft colours of nature, and in the most regular perspective the eye can perceive, or science demonstrate." Ideally a visitor would carry two Claude glasses – a smoked mirror for bright days and a silver foil one for dull weather – rather like analogue Instagram filters.
It's difficult to imagine the 18th-century tourists standing there with their backs to the landscape, gazing at the views in filtered mirrors, without thinking of their modern-day counterparts standing in exactly the same position taking snaps for Instagram. And in Gilpin editing out "grotesque" cottages and other such aberrations, there is more than a hint of Photoshop.
Just like overly-keen Instagrammers, enthusiasts of the picturesque were ripe for mockery. Even Jane Austen had a pop at them in Northanger Abbey, where one character so over-analyses the technical aspects of a view that he strips all the joy out of it – an experience that will be familiar to anyone who has tried to enjoy a nice holiday in the company of an Insta-fiend.
But maybe we shouldn't be too snooty about either ourselves or those early tourists. Understanding and appreciating the majesty of natural landscapes, after all, is hard, and our compulsion to frame and record them is perhaps just an attempt to reduce them to more relatable proportions. Two hundred years ago, they reached for a Claude glass; today we get our phones out.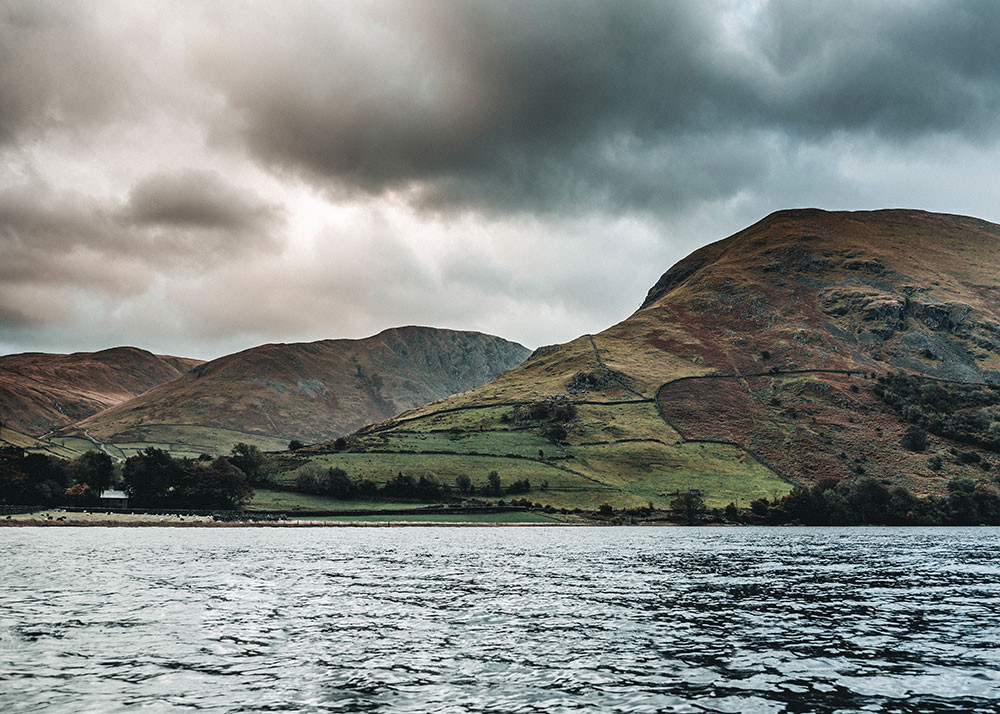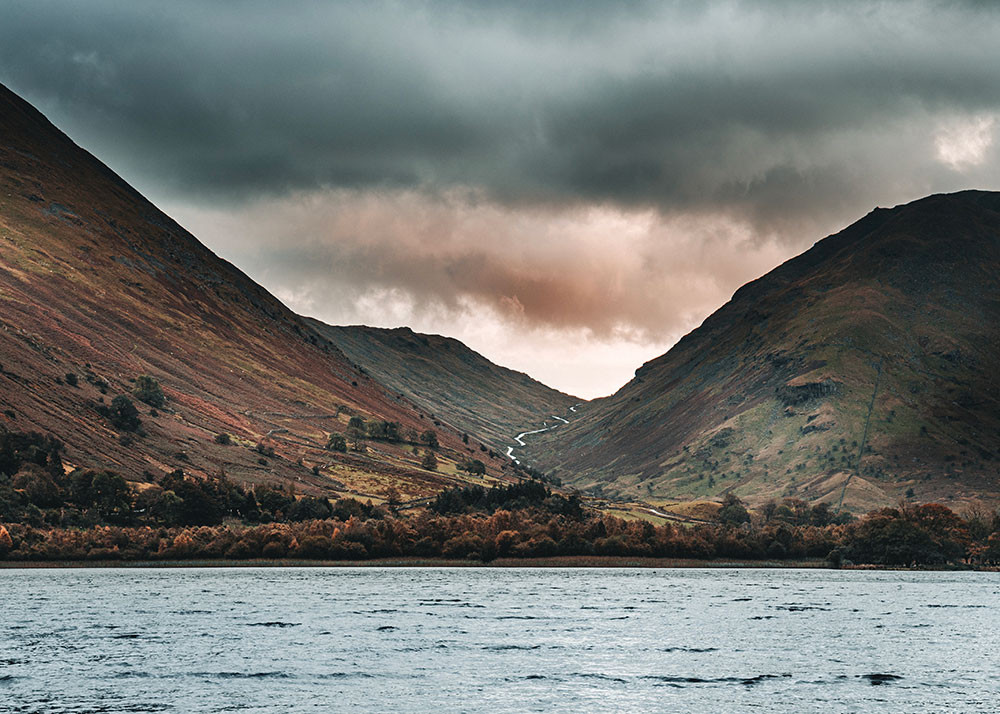 From tiny acorns…
The problem with a prescriptive system like picturesque beauty was that it left little room for an instinctive response to landscape. But as a starting point, the concept provided a stepping-stone to a richer, more spontaneous relationship with nature. It wasn't long before Wordsworth and his set broke free of the viewing stations, wandering lonely as clouds through the Lakeland fells and discovering what West himself termed "accidental beauties".
The Lake District has been called the birthplace of landscape conservation, one of the many reasons why the region was recently added to the World Heritage List. For all their fussy artistic language and absurd mirrors, it was Gilpin, West and the early picturesque tourists who first found a way to relate to those 'sublime' landscapes. In doing so, they may well have sown the tiniest seeds of a global conservation movement that now spans more than 3,000 national parks and over 70 National Trusts worldwide. ●
Experience for yourself
Immerse yourself in the grandeur of the Lakes, but through binoculars rather than through a mirror with your back to the view. Let Another Place, The Lake be your starting point. Book your stay.