The bluebells of Rannerdale Knott
The Lake District is an excellent place to see one of the nation's favourite wild flowers in all of its glory. Rannerdale could well be the very best of the best, hosting thousands of bluebells between late April – May each year.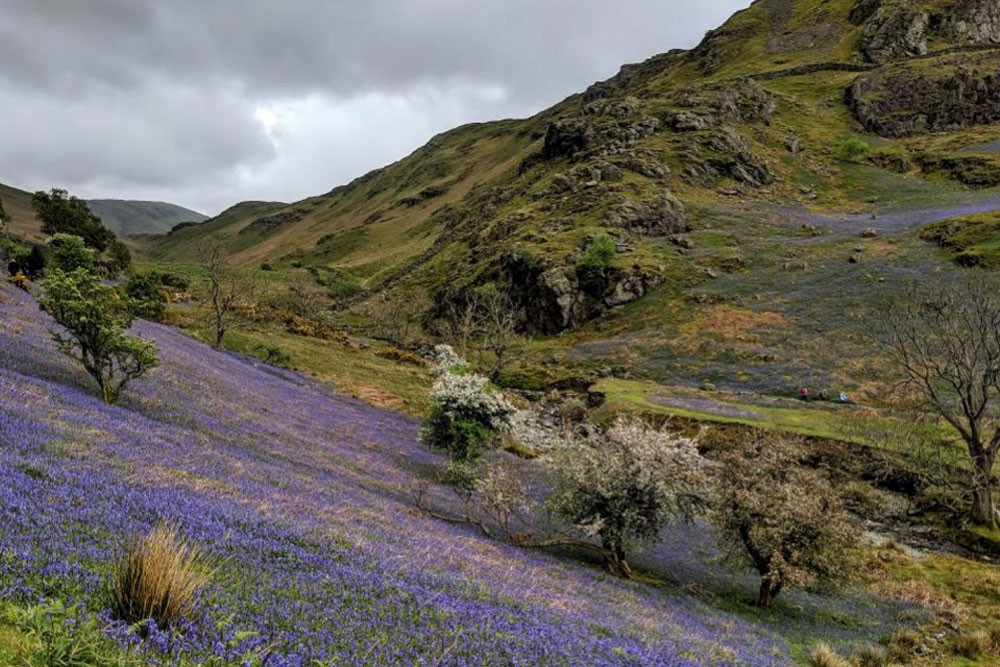 Squat Beck winds its way down through High Rannerdale and the carpet of bluebells. Rannerdale Knotts and Low Bank can be seen in the background.
The easiest way to reach the bluebells from Another Place, The Lake is to head west on the A66, continuing straight on the Keswick Bypass until you turn left into Braithwaite. From here you will need to take the B5292, following signs for Buttermere. This is a beautiful narrow road that takes you through Newlands Valley, reaching 333m at its highest point at Newlands Hause. Here there is a carpark where you can stop to admire the peaceful valley or if there has been recent rainfall (here in The Lakes we can usually safely assume that there has been!) you can take the short walk to Moss Force to admire Moss Beck's tall cascading falls. Once you have descended into Buttermere you will turn right onto the B5289 until you reach the carpark at Rannerdale.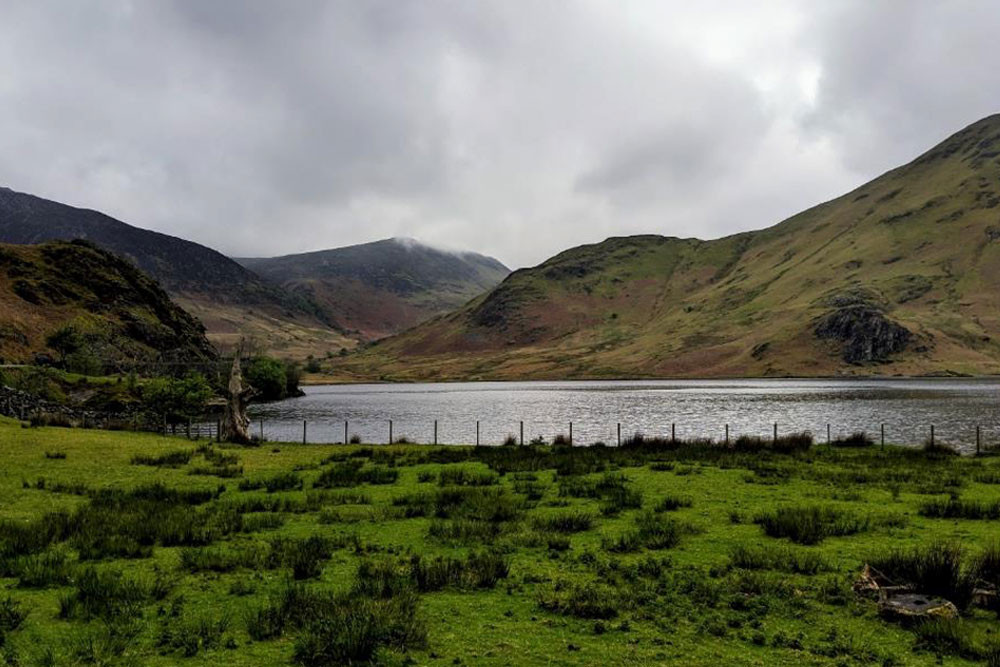 The view from the carpark – Scale Knott, High Ling Crag and Mellbreak keeping watch over Crummock Water.
The car park is somewhat a glorified lay-by and during bluebell time there are many that come to see the spectacle. So, if you are struggling for a space you can head further down the road to the next car parks at Cinderdale Common.
Quick warning to all – although the lines are almost impossible to see, this road has double yellows on both sides so please don't be tempted to park up on the grass verge, even if you just want a quick photo!
The walk to the bluebells is very gentle which makes it suitable for most, although it's worth mentioning that you will have to pass through a kissing gate (remember to pack mints and your favourite lip-balm) making it inaccessible to prams and wheelchairs.

An historic feature dating back to the 12th century, if local folklore is to be believed!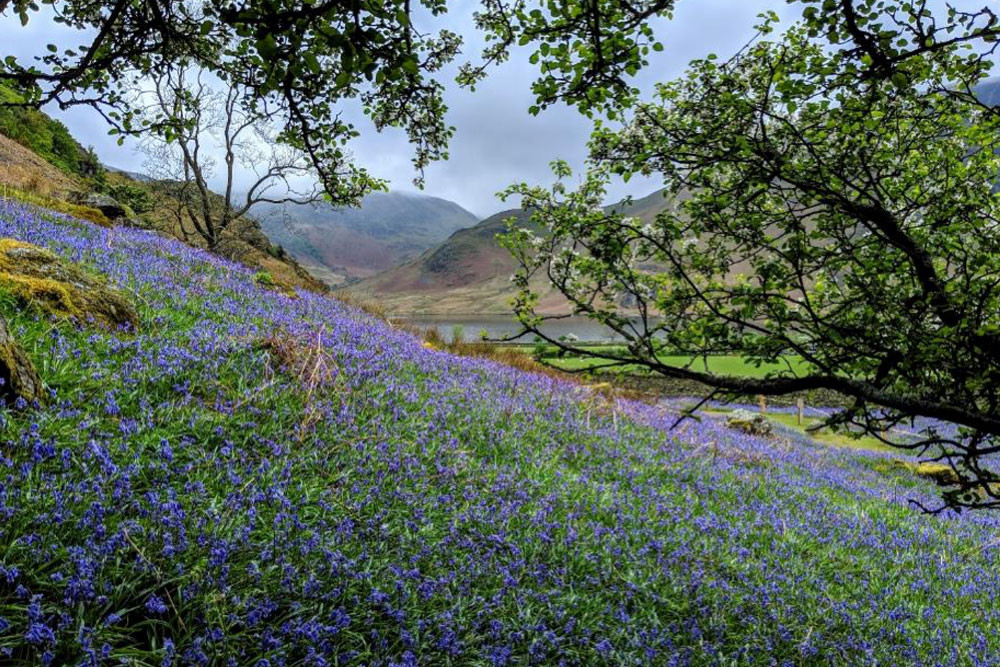 Crummock Water and High Ling Crag make for a beautiful backdrop to the bluebells.
If you simply want to get pictures of the bluebells then you could expect to spend 15 – 30 minutes here, given the short distance from the car park. A good way to extend your time here and appreciate this valley fully is to walk up to the summit of Rannerdale Knotts – this is roughly a 3 mile loop.
Despite any grey skies and chilly breeze you may encounter, it is a magical sight. It was once believed that fields or woodlands of bluebells like these were enchanted and frequented by faeries (or ' piskies' – shout out to our Cornish cousins down at Watergate Bay!).
Local folklore also states the origin of these bluebells, although there is much debate about the truth of the story. The tale starts with Jarl Buthar (it is suggested that this is how Buttermere's name came about – 'Buthar's Water') a local fellow who conducted 50 years of guerrilla warfare against invading Normans during the 12th century.
Rannerdale was supposedly the setting of a particularly bloody battle, where Ranulph les Meschines, Earl of Carlisle, and his army were ambushed and killed. From the blood-soaked fields came the bluebells, and so they have year after year since then.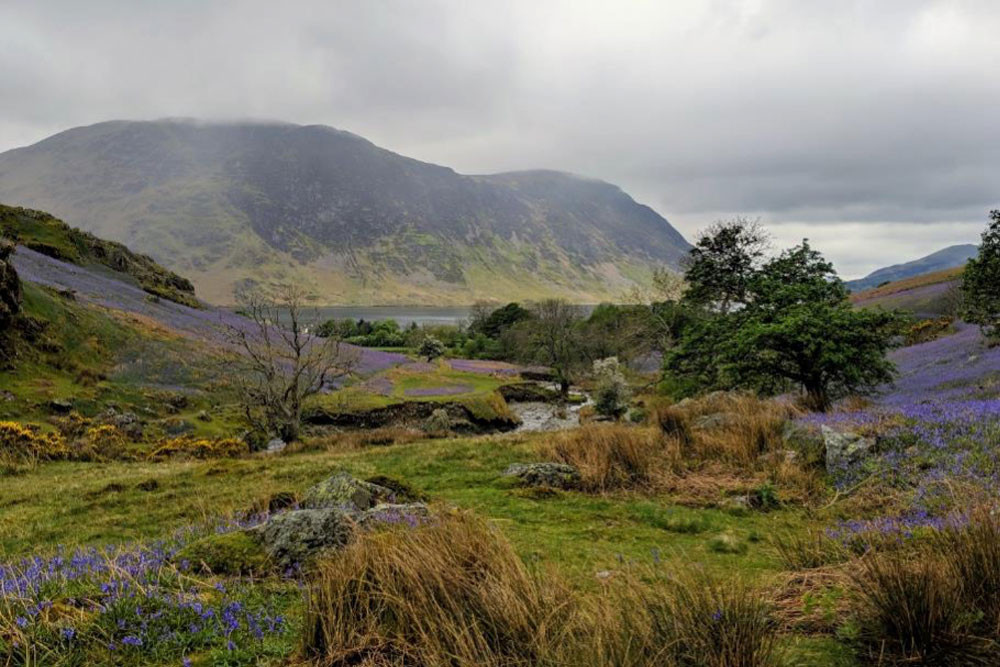 Mellbreak in the distance, beyond that lies Loweswater which is visible from the summit of Rannerdale Knott.