This is Kerry, Max & Paddy (and Harry), Lake District-based phenomenon, Max Out in the Lakes. They have risen to fame documenting the unfettered joy of walking the fells with three energetic Springer Spaniels, and raising pots of cash for charity, such as Mountains for the Mind.
You may recognise them from ITV's Top 100 Dogs, when Kerry explained how Max came to be in his life. Their journey together began when Kerry found himself feeling incredibly low after and accident left him in constant pain. Find out a little more about this beautiful friendship and learn how to get the most out of the Lakes when you visit with dogs.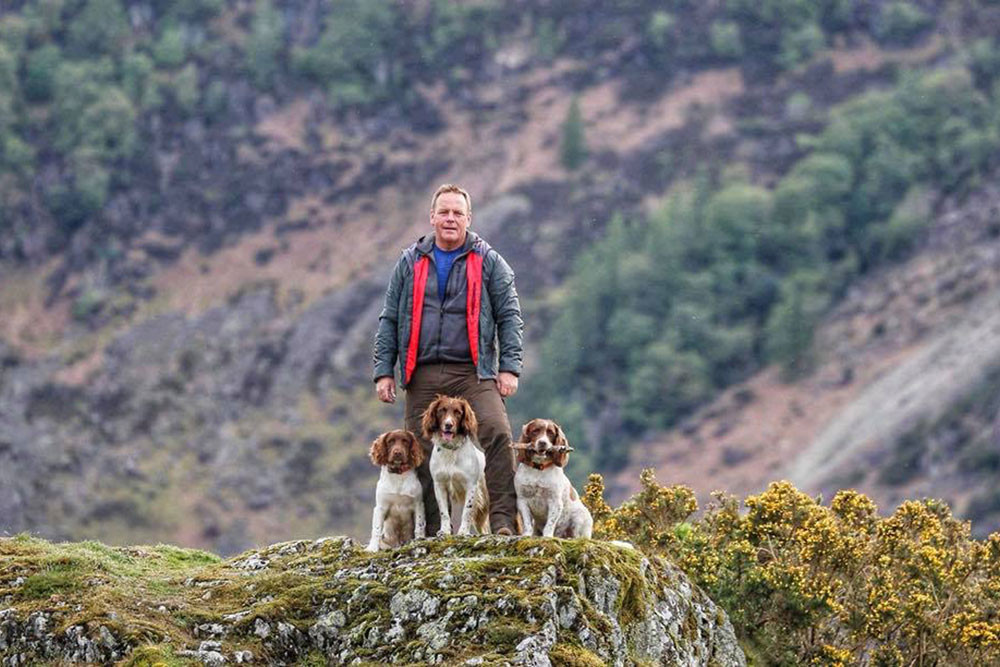 Can you tell us how you met Max?
I've known Max for around ten years, he just lived around the corner from us. He was often sat with his head through gate railings. After my accident I started to visit him daily. It gave me a focus during my rehabilitation. Eventually I started taking him out for walks. At first it was just half an hour, but soon developed into daily excursions. We were given the chance to adopt him around four years ago and we jumped at the chance. From the day I met him I knew he was a very special dog.
Do you remember where were you when you felt the feeling the outdoors used to give you?
One of the best walks I recall with Max was the day we walked to the shore of Derwentwater, this was around two years after my accident. It was a milestone for me as it took a lot of effort to walk the distance (it's literally a ten-minute walk now). I don't think I've ever seen a dog so happy. Max ran straight into the water and wouldn't come out. From that day my confidence grew, I just wanted to see how happy he was second time around, so we did it again. It was a breakthrough moment for me. I just wanted to see it again and again.
And how quickly did Paddy, then Harry come after?
Paddy joined us in April 2017, I suppose I wanted continuity in a walking partner and what better master to train an apprentice than Max. Paddy soon settled in and they became great pals. Harry is Paddy's full brother and he joined us in January 2019. They are a great team.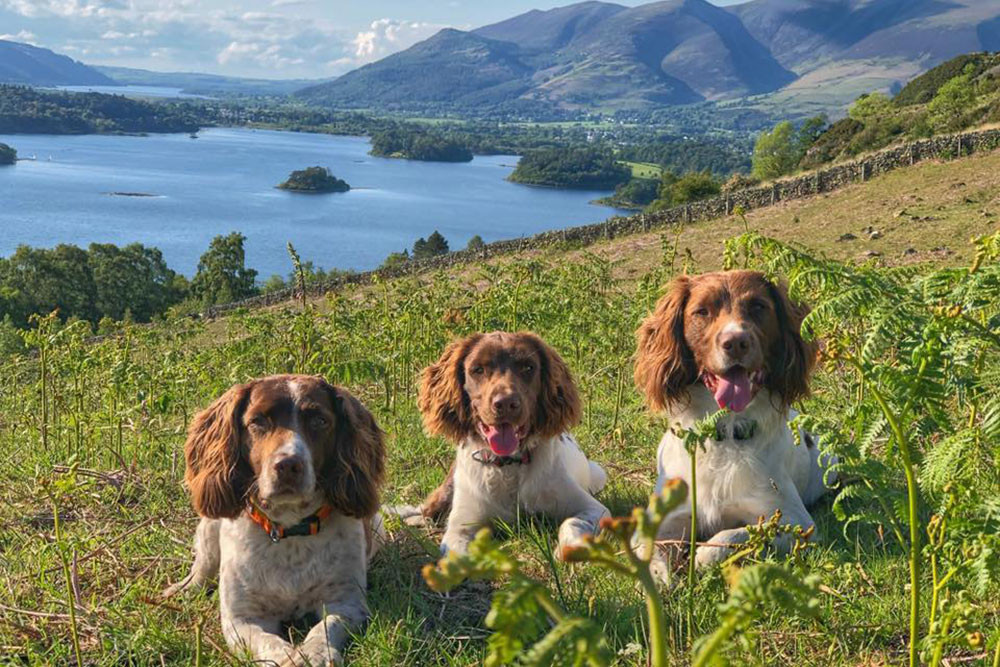 Why do you think British people are so mad about dogs?
I think in general the English are well known as animal lovers. Dogs are great company and make ideal walking partners. A companion for support and loyalty.
Convince me in one sentence why Springer Spaniels are the king of dogs.
Love, loyalty and laughter. They are the full package, once you've owned one nothing compares.
Do you ever walk without dogs?
My dogs are with me every day, if they can't go, I don't go. Dogs are social creatures and crave human company. We are so lucky that more and more cafes, pubs, hotels etc are dog friendly. They are family and love a holiday too!
Do you have a different walk for different moods?
To me any walk is a good walk. The Lake District offers diverse and varying terrain, low level walks can relax the mind within minutes and still deliver stunning views. More challenging walks will make the heart beat faster and give you a massive adrenalin rush.
Where do you go if you want to be alone with the dogs?
The area around the back of Skiddaw, Mungrisdale is a great place to get out on your own. More gentle moorland terrain and hardly anyone there. It is a great place to explore.
How about if you want to tire them out?
Luckily a Spaniel will manage that himself! We recently measured Paddy's activity with a GPS tracker fitted to his collar, I had one attached to my rucksack. I did just over 8.9 miles. Paddy did 24.9miles. His top speed was 27.9 mph, mine was a lot slower.
If you are short on time?
Great Mell Fell is a cracking walk and again off the beaten track so fairly quiet. Take a flask (the hotel can lend you one) and a butty and sit on top. It's great.
Best view?
Some of the smaller hills offer amazing views for the least effort. Latrigg or Castlehead at Keswick are short walks but stunning vistas.
Least sheep?
You have to be prepared for all types of livestock appearing anywhere. Our local sheep, Herdwicks have a licence to roam and do so. Cattle and ponies are often around, so have a good lead and use common sense.
Tell us about Max's birthday walk.
We hold charity walks for all our dogs' birthdays, it's a great way to celebrate whilst raising money for charities. Max will be 12 in August, his family-friendly walk with great accessibility is around two miles with lots of swimming in Derwentwater. We start and finish at the Pencil Museum, we even have a doggy buffet with sausage rolls and loads of treats for the dogs. We also have a small buffet for humans. This year it's in aid of the PDSA (People's dispensary for small animals) we'll have a raffle with some amazing prizes! 200 humans, and around 150 dogs. What's not to love! Why not join us by signing up here?
How do you prepare to take three dogs out?
Easy, they are really well-behaved dogs. They have plenty of exercise, have boundaries and know what's going on and how to behave. Having three dogs is just as tying as one.
Pet peeves/dog etiquette advice on a walk in the Lakes?
The thing I dread to hear is "Don't worry he's just playing". This as an Alsatian is bounding towards you barking and growling. Just don't let them do it. Also, extending leads, there's no place for them in busy places and cause many a trip up.
But the main thing is if your heading to the Lakes, let your dog go to the toilet out of town, don't bring them into a busy market place without walking them first, it'll save you a load of embarrassment and a load to pick up!
Finally, any insider tips?
Hey you're in the Lakes; it's going to rain. Be prepared to get wet, muddy and fresh-air-tired. You'll meet the same like-minded people, smile and say hello!