Julia Ogden landscape artist
(4 minute read)
On the wall in the newly designed living area of Willow cottage, Julia Ogden's bespoke landscape mural reflects the greens and rusty oranges outside.
Inspired by her love for the outdoors, natural surroundings and storytelling, Julia Ogden is an artist from Hebden Bridge, Yorkshire, whose fluid landscapes are recognised internationally.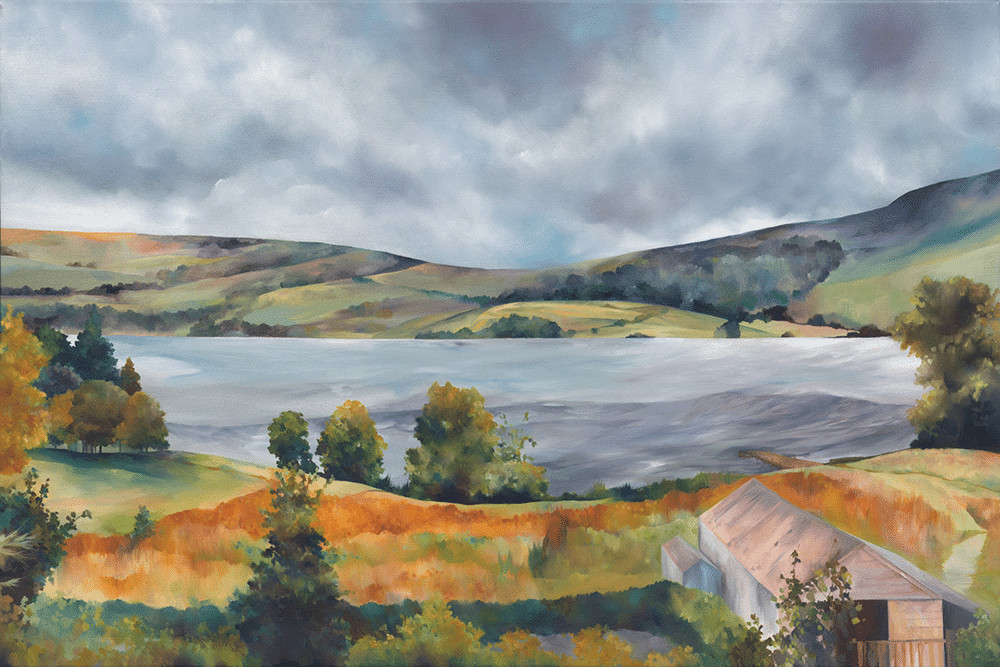 Landscape artist and screen printer
Having trained in illustration at the Edinburgh College of Art and starting her creative journey with book illustrations, Julia has developed and explored many artistic mediums over the years and now specialises in screen printing and painting. Recently, she has transferred her landscape work not only onto walls, but to everything from cushions to wall paper, broaches and mobiles.
This has been the catalyst that led her to creating the large mural on the wall of the living area in our recently redesigned two bedroom Willow cottage, which was designed and curated by Interior Design Masters winner Lyndsey Ford.
Willow cottage mural
Julia's work first caught the eye of interior designer Lyndsey Ford, during BBC2's Interior Design Masters, where several interior designers competing against each other to transform once tired spaces, into design masterpieces.
Lyndsey wanted to work with Julia again after working with her on the series and a large scale mural in Willow suited her style and colour palette. The landscape mural mirroring the views from the dual aspect windows in the cottage.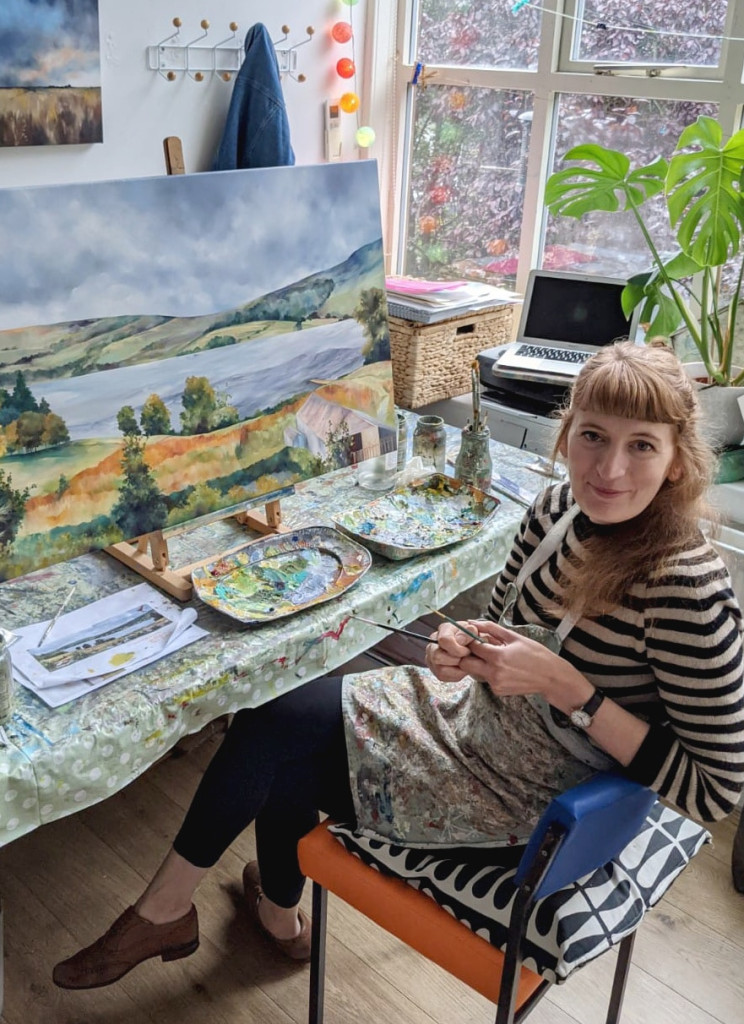 "Before I started the painting I had chatted to Lynsey about the colour palette; we talked about the rust and coppery tones in the grasses and she was keen to have some of those colours in the piece.
Sketchbook in hand I visited Another Place and loved the soft greens and blues in the distant hills. I thought these would be a nice contrast to the warmer colours in the foreground of my planned painting. I made watercolour sketches of the view and the plants.
When I returned to my studio I used these along with photographs I had taken to paint the final piece in oil paint. It really helped to visit and get a sense of this beautiful, peaceful place".
About Julia
Julia trained in illustration at the Edinburgh School of Art and began her career creating prints for books. After moving to Brighton she completed a Masters degree in sequential illustration. Her love of the outdoors and inspiration from her surroundings, brought her back to her home county of West Yorkshire, where she set up her studio in the town of Hebden Bridge.
As well as selling her work through her online shop and taking on commissions, Julia divides her time investing in future artists, through work within schools and through running her own weekend and holiday art clubs and workshops. Julia says that through her creativity she hopes to bring a smile to people's faces and brighten up a rainy, dull day.
The Another Place mural print
Julia's beautiful interpretation of the view from Willow cottage at Another Place the Lake, is currently available to buy in her online shop as a limited edition Giclee print.