Embracing inspirational landscapes, centuries of history and contemporary architecture, design has always been central to the Another Place story. As the hotel takes to our screens for the new series Interior Design Masters with Alan Carr on BBC Two, we take a closer look at Another Place's interior design evolution and see what's next on the horizon.
"Nature is painting for us, day after day, pictures of infinite beauty."
John Ruskin

Windows on the wild
"I'm really interested in the interface between indoors and outdoors," explains Will Ashworth, Another Place CEO. "And especially by this concept which we call 'active relaxation': a hotel experience which also immerses you in nature, landscape and the outdoors.
"This is the idea which underpins Watergate Bay Hotel. We'd always wanted to try to replicate it elsewhere, but had never found quite the right location. Then we came across this place: an old country hotel, surrounded by eighteen acres of lakeside grounds, right in the heart of the Lake District. Instinctively we knew it was perfect. The hard part was figuring out how to make the hotel we had in our heads a reality."
To bring his vision to life, Will turned to Household, the innovative L.A. and London-based design practice who had previously helped shape the look and feel of Watergate Bay, and whose impressive roster includes brands such as Harrod's, Soho House and Christian Louboutin.
"As at Watergate, we knew the location had to inform the design," says Will. "We wanted to make the Lakeland landscapes an integral part of the experience. The idea was to create a lifestyle hotel that echoed the ethos of Watergate, but with its own unique sense of place, rooted here in the Lake District."
For Household, a major part of the brief was to preserve the character of the original late 19th century building, while simultaneously creating a modern structure fit for the 21st century.
From the outset, the decision was made to celebrate this clash of old and new, rather than conceal it. Using open-plan interiors and clever connecting spaces, the design team created a sense of flow between the old and new parts of the building.
Expansive areas of glass were used to frame the views – notably in the Swim Club, with a 20m glass wall pool that creates the feeling of swimming into the hills – while the palette subtly reflected the Lakeland surroundings: field greens, slate greys, bracken reds.
Bespoke furniture was also sourced from local makers, reflecting the Lake District's long connection with the Arts and Crafts movement of the late 19th /early 20th century.
The aim, in Household's words, was a hotel that felt "like a best friend's holiday house" – a laid-back, stylish retreat that showcased the 'active relaxation' lifestyle. They even reused familiar design elements from Watergate Bay (such as the striking zig-zag floor in The Living Space), allowing the new hotel to feel both subtly familiar and intriguingly new.
"Household understood exactly what we wanted to achieve," Will continues. "The flow between inside and outside, the celebration of craftsmanship, the combination of rusticity and luxury, the passion for the outdoors. I think they did a fantastic job."
"We wanted to create a contemporary country hotel that felt both familiar and intriguingly new."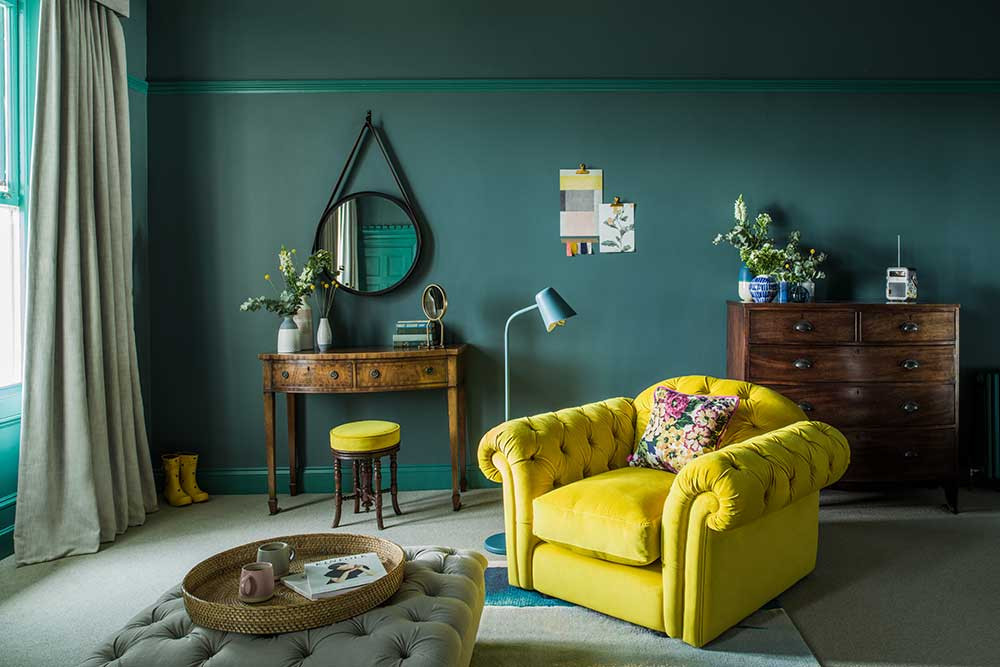 Pops of colour
It's been four years since Another Place opened, but its design journey is far from over. Just like the active lifestyle it promotes, the hotel itself never seems content to simply sit back and enjoy the view.
"It was important to keep evolving," Will says. "That's always been part of our ethos. We wanted to foster collaborations with interesting, creative designers, and give them the freedom to create rooms with their own unique stamp."
The first of these collaborations was with Hannah Coates, art director at clothing brand Joules. In 2019, she was invited to reinvent one of the hotel's suites.
Her approach employed a similar palette of earthy tones, this time pairing them with bold patterned fabrics and Joules' signature 'pops of colour' – daffodil yellows, watery blues, heather purple.
She also indulged her own taste for vintage chic, dotting the room with upcycled furniture and quirky finds, like old vases, clocks and even an antique pull-flush loo (a throw-back, perhaps, to the original Rampsbeck Hotel).
The result was the Joules Suite: a bright, fun, eye-catching room that playfully skates the design line between modern and vintage.
"We were keen to foster collaborations with interesting, creative designers, and to give them the freedom to create rooms with their own look and feel."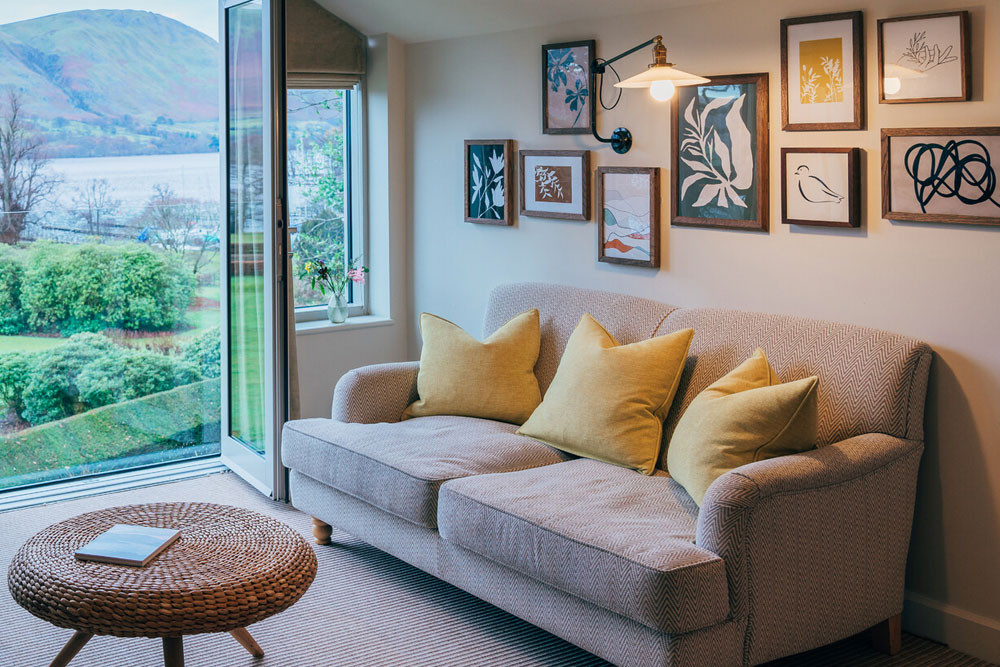 Changing seasons
Landscape, as well as history and heritage. also informed our next collaboration.
"I'm a regular visitor to The Lakes and have spent many happy hours walking here, so I wanted to bring elements of the landscape into the interiors," explains Matt Hulme of Dynargh Design, an award-winning interior design practice based in both London and Cornwall.
"The older part of the hotel had so many original features, like lovely cornicing and marble fireplaces, and I wanted to embrace these. We also had some really beautiful old case goods, such as bedside tables, wardrobes and desks, which I wanted to reuse."
Alongside repurposing old fittings and fixtures, Matt added new pieces of modern furniture for a more boutique feel, such as feature beds and upholstered headboards, and collections of individual artworks for each room.
"I particularly love the wallpaper we used on of the suites," he adds. "I was drawn to it as I felt it encapsulated the Cumbrian landscape: the green tones and flashes of burnt yellow which inform the rest of the design."
Matt's design in the suites is an ongoing series of collaborations with Another Place and Watergate Bay.
"I've been designing hotels for nearly 16 years, and expectations have changed dramatically," he says. "Guests want a unique experience every time. The new bedrooms fit with the relaxed sense of style that Another Place is known for. Nothing is too precious or perfect: it's a real home away from home."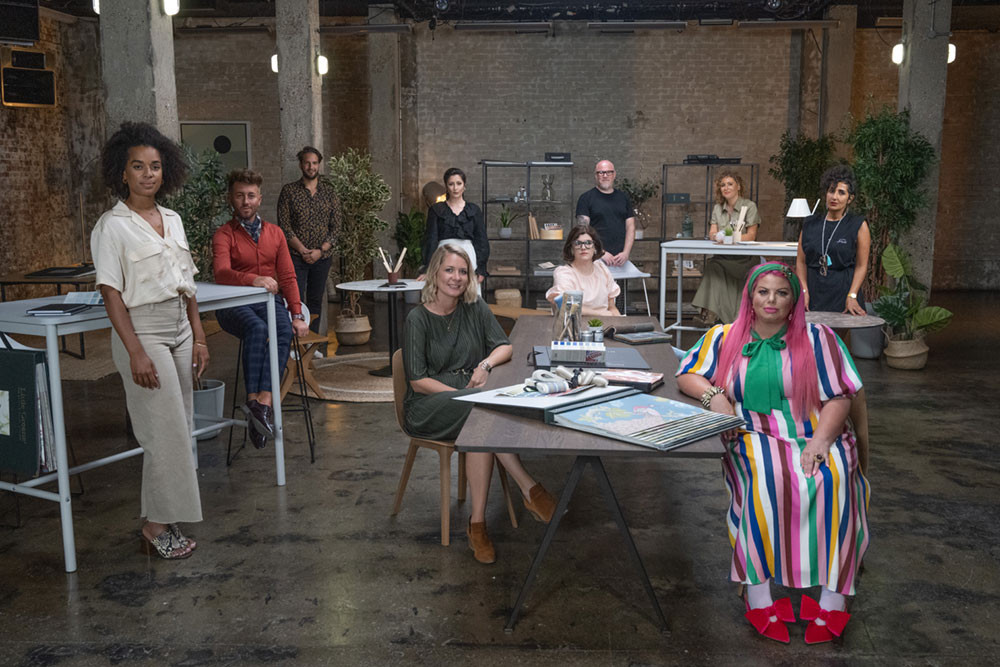 The road ahead
The next step in Another Place's evolution will, of course, be the winning room design from this year's series of Interior Design Masters, which should be ready to welcome its first guests in Autumn 2021.
"We are excited to bring the Interior Design Masters winner into our design collective," says Will.
But there's plenty more to look forward to on the horizon as well: not least the creation of a treehouse, a selection of shepherds' huts and a cutting-edge contemporary glasshouse in 2022.
In fact, our design journey is just getting started – so watch this space…
Book your stay and see our spaces for yourself