Jess, our guest relations manager guides you through Cathedral Cave at Little Langdale and its linking tunnels, chambers, caverns and the surrounding area. Don't forget your torch.
Words by Jess, our guest relations manager.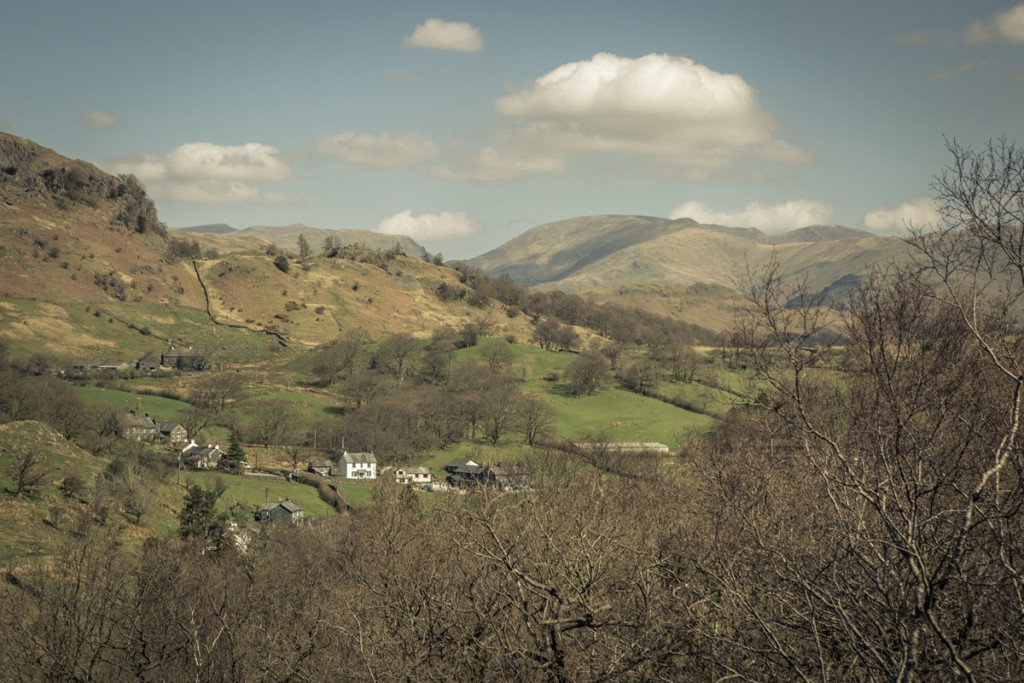 Cathedral Cavern resides in a disused slate quarry in Little Langdale. A hair-raising drive down winding country lanes will bring you to this unsuspecting village, from where you can start your walk to the cavern.
After a short walk down the 'no motor access' road you will reach the River Brathay. Continue from here along the footpath towards Langdale Tarn, taking a left at the stile, where the real adventure will begin.
The entrance to the cave is unassuming. A small doorway guides you into the 'cathedral' – a magnificent, vast chamber with a 40 foot pillar at it's centre.
Light manages to find it's way into the cave, sneaking in through the two windows which give a glimpse out to the fun to be had beyond the walls of the cavern.
Continuing past the pillar you will come to a small pool of water where, believe it or not, goldfish live. The pool is deeper than you think so if you can't see any life in there to begin with don't be disheartened, they'll likely come up to say 'hey' from the murky depths if you wait.
It's possible to walk past the pool and through the cave to an opening into the quarry.
Now, it's time to climb.
This is the point where you'll definitely need a good pair of boots and a great sense of adventure. The quick scramble up slabs of slate brings you to an enchanting platform from where you can look down into the main cavern or explore smaller caves and tunnels.
To get the full experience you'll probably also want to bring a torch.
In fact, definitely bring a torch. You'll need it.
At the bottom of the cliff face is the entrance to a 400ft tunnel which brings you out on the Tilberthwaite-side of the fell. Tall people beware, this can get a little low in places so be prepared to do your best impression of a crab as you navigate this tricky terrain.
Coming out into the open air is enough of a wonderful feeling, but is made even better by the magnificent view that greets you almost by surprise.
It gets even better as you continue to climb the – at times very steep – path up the fell to a small clearing where another tunnel waits to be explored. Head back down the path and around to the other side of the fell (which can also be accessed from the footpath at the mouth of the cave) and you will find a large clearing with almost unobstructed views over Little Langdale, Langdale Tarn and Lingmoor Fell.
Cathedral Cave is a place to be explored. It's easy to spend a couple of hours here simply because there are so many little nooks and crannies to discover. Be careful of course, there are plenty of places to fall, hit your head or slip so do exercise caution as you run and climb and channel your inner child.
If you finish up your walk at Cathedral Cave and feel like you need to do more exploring, it's possible to extend the walk to Hodge Close, another disused quarry but maybe not as grand as the one here.
For more walking route ideas discover our blog.
Suitable for all ages. Children must be closely supervised and dogs should be kept on leads.
Not suitable for wheelchairs or push chairs.
Parking – limited parking in Little Langdale near the Three Shires Inn.
About Jess
Jess was born in Penrith and lived in the area until leaving for New Zealand, where she stayed for a year and a half. Since returning, Jess has developed a fascination with The Lakes and loves to explore quirky places off the beaten track, getting to know the place that she's from.
Now Jess is living in Penrith with two friends, as well as her two rabbits – Chickpea and Oreo. When she's not working at Another Place, Jess can be found cycling/walking around the Lakes and enjoys anything to do with Naturopathy and natural health/food as well as a strange love of Cumbrian dialect and Cumbrian folklore.